Hey everyone!
Today I want to tell you about something that's happening on January 19th- the twitter party for Bittersweet by Sarah Ockler! If you want to share the information about the party- which we're calling Twittersweet- you can scroll down and get the code for either the big graphic (pictured below) or a small graphic (which I'll put below the bigger one). Click on either graphic to be transported to a page on Sarah's website that tells you more about Twittersweet!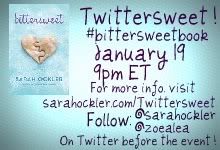 I think this twitter party is going to be pretty awesome, so you should totally come and join Sarah and me. You can win some really cool prizes, and talk about a really awesome book.
I hope to see you all there!